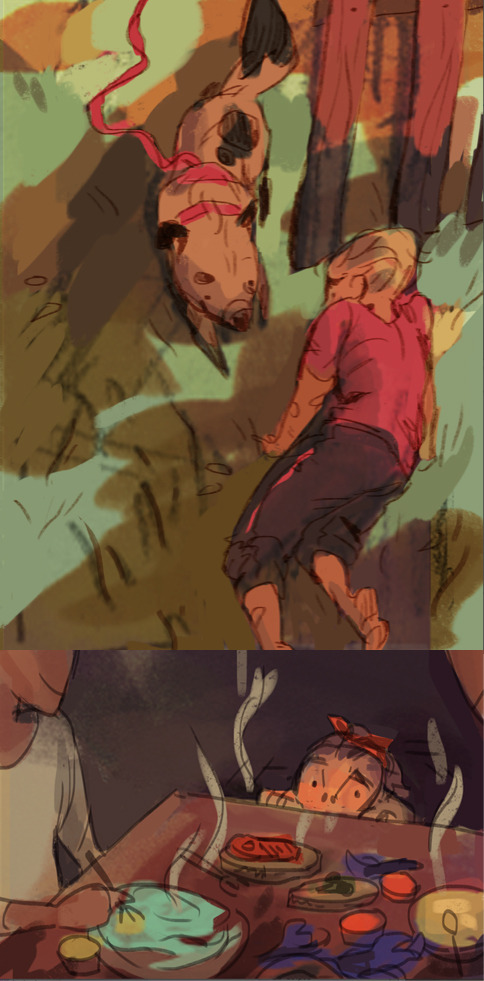 'Yearbook' project for my animation pre-production class - come up with a character and draw them each year from preschool through high school. My character is a boy raised by wolves :) I had 2 days to make these, and there's a lot of parts I wanted to rework before presenting them anywhere - but I have about 7 projects that are at this stage right now and I've been feeling bad about keeping everything under wraps for so long!
In the mean time I just started using twitter, and will try to post some of that stuff more often over there! Would love to say hello to and meet more of you guys there! @BearsAreRed
I just finished up the most exciting AND the most stressful month of the last year(at least), and I've been wanting to talk about a little of what I've been up to! I got the most spectacular schedule at MICA this semester (just got it set in stone last week), with great teachers, great assignments, and great classmates, and it's only been a month but I've really been getting a lot outta it already. Also in September, I flew up to PA for Illuxcon on one of their student scholarships - got SO much inspiration, motivation, great advice, and left finally feeling confident about what I'm doing for my education. 
Missing school for 4 days + over scheduled with studio classes and an internship meant working way more intensely than I have before, for about a month, which was really great and really excruciating! I've been doing a lot of new things in all of my classes, and feeling like I'm taking a lot of big steps towards where I want to go with my art - pretty different from my usual work and it's all at a very rough stage so I've been hesitating to show any of it, but I feel like I'm finally breaking a wall I've been hitting my head against for ages.